Complete Idiot's Guide to 30 Classical Guitar Favorites
Perfect for any guitarist who wants to explore classical music. If you enjoy Taylor, Jorma, Mayer, or Hedges and want to step it up to Bach, Giuliani, Tarrega and Segovia then this book is for you. Thomas Kikta of Duquesne University teaches classical fingerstyle technique in the context of some of the most beautiful classical guitar repertoire ever assembled. This book comes with two CDs that contain recordings of every piece and our exclusive TNT software that lets you play along, slow tracks down, and loop sections for practice. Music in written in standard notation and TAB. Composers covered include Sor, Carcassi, Bach, Aguado, Tarrega, Albeniz, Pachelbel, and more
Classic Guitar Technique Vol 1 3rd edition with CD
Aaron Shearer's Classic Guitar Technique has long been the core guitar method used by generations of classical guitarists. Alfred Music Publishing is proud to present Aaron's first fully revised and re-edited edition of this benchmark work. In addition to new exercises and music, Aaron and co-author Thomas Kikta have included critical new insights into core guitar techniques. Plus, for the first time, the book now comes with a demonstration and play-along CD. Students will be able to hear and emulate the tone and feel of the CD recording and they will have the opportunity to play their pieces as duets with the included recording. In addition, insert the CD into the CD-ROM drive of your computer and our exclusive "TNT" software allows you to changes tempos, mute the student part, and even loop sections for repeated practice.
The Shearer Method - Classic Guitar Foundations
The Shearer Method Classic Guitar Foundations is the first in a series of works that define Aaron Shearers approach to playing the classic guitar. The work by this legendary figure, with videos by Thomas Kikta and compositions by Dr. Alan Hirsh, stands out in starting the student to read and play while following a graduated step-by-step curriculum that supports positive habits for efficient study. This innovative method is rooted in a common-sense approach and includes musical offerings in a rich variety of styles, sensitively composed to support technical development. Areas of focus include: optimal hand position, visualization, sympathetic motion, arpeggios, finger alternation, left-hand coordination, and chords. With 63 videos shot in high definition, 74 new solo and duet compositions and arrangements as well as works by Sor, Carcassi, Giuliani and more, 35 recorded tracks with TNT Technology plus the Shearer Online Supplement, Classic Guitar Foundations is not just a book but a media experience.
Discover why the Guitar Foundation of America has called Aaron Shearer the most prominent pedagogue of the twentieth century
A must have to complete the library of any classic or finger-style guitar player!
Online Lessons
Thomas Kikta works extensively with classic guitar students around the world on Skype. For more information on a private lesson contact him.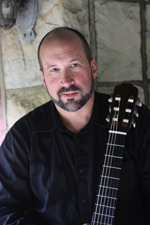 Bio
Musician, Audio Engineer, Producer, Professor and Author, Thomas Kikta is a versatile artist who has been the director of Classic Guitar and Recording Arts and Sciences at Duquesne University in Pittsburgh, PA. for over twenty four years.
A native of Pittsburgh, he studied Classic Guitar performance with Aaron Shearer at both the Peabody Conservatory and at the University of North Carolina School of the Arts. He has performed around the country and for such dignitaries as Maya Angelou and Toni Morrison and has worked with such artists as Ricardo Cobo, and Manuel Barrueco. As an audio engineer and producer Mr. Kikta's credits include The New York Philharmonic, Pittsburgh Symphony, Visa /Mastercard, Family Guy, Cartoon Network, Boomerang, Starkist, Dr John, MCG Jazz, BMG Classics, Leonard Bernstein, Pepe Romero, Sean Jones, Jacob TV and the New Century Saxophone Quartet, to name a few.
After working closely with Aaron Shearer for over 28 years he with Mr. Shearer coauthored the 3rd edition of the best selling and benchmark work "Classic Guitar Technique Vol 1" published by Alfred Publications, which was nominated for "Best Instructional Book or Video for 2009" by Music and Sound Retailer. He was invited to write "The Complete Idiots Guide to Classical Guitar Favorites" which was published by Alfred Publications in 2010. This work provides supplementary lessons to 30 favorite selections for a student working with a method book. It also gives historical perspective to the authors and selections with fun facts and a guitar historical time line.
As a Co-founder and Board Chairman of the Guitar Society of Fine Arts, Pittsburgh audiences have enjoyed a decade of world class guitar music as well as free music lessons for underprivileged children. Thomas Kikta along with members of the Shearer family have founded The Aaron Shearer Foundation an organization dedicated to preserving and propagating the teachings and legacy of the revolutionary guitar pedagogue, Aaron Shearer.